Supercharger:
TVS R2300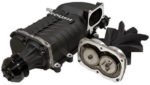 Eaton's TVS R2300 roots type blower is part of their sixth generation Twin Vortices Series. It utilizes their 4 lobe design with a 160 degree twist to the rotors. This design differs from other traditional roots designs which typically use 3 lobes.
Details:
Usage:
Street, Strip, Race, Light Race, Marine
Availability:
Available
(as of Apr 22, 2017)
Max Peak Speed (RPM):
~18,000
Thermal Efficiency %:
70+
Rotation:
Clockwise or Counterclockwise
Isentopic Efficiency:
68%
Model / Trim / Options & Price

TVS R2300.

Price:

N/A - Eaton does not sell individual units. See licensed company prices (EG: Magnuson, Harrop, Edelbrock, Roush, OEM's).
---
---
🔝
TVS R2300 Kits
Related Kits Found: None
---
🔝
TVS R2300 Articles
Related Articles Found: None
---
🔝
TVS R2300 News Items
Related News Items Found: None
---
🔝
TVS R2300 Achievements / Milestones / Awards
Related Achievements / Milestones / Awards Found: None
---
🔝
TVS R2300 Deals
Related Deals Found: None