Phil Weiand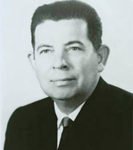 Founder of Weiand Power & Racing
About:
Born 1913 in Los Angeles, Philip Charles Weiand Jr. who at the age of 14 was an aspiring musician that traded away his mandolin for a 1922 Model T Touring car. Another trade allowed him to replace the Touring body with a Model T roadster body. His time in high school shop class paid off as he built his first custom exhaust header with straight pipes and a downdraft carburetor intake manifold. After graduating Phil took his heavily modified roadster to Muroc Dry Lakes. It was May of 1933 and he was able to hit 91.80 miles per hour. In a quest for more speed he replaced the Model T frame with a 1926 Chevrolet chassis, added a Franklin front axle and two Ed Winfield's downdraft carbs on his Weiand manifold. The next runs he made 102, 109 and then 116 miles per hour – the fast time for that event. With the race season over Phil overhauled his car for the upcoming season. On January 21, 1934, at 20 years old, Phil, with some friends, took his car out for a test run on deserted roads. This decision would drastically change his life. Phil's passenger became spooked at the high speeds and an upcoming bend in the road. The passenger pulled the emergency brake which sent the car into a skid then a roll. Phil was thrown from the car and his injuries would leave him a paraplegic. Phil wasn't sure what to do with his life after the accident and to keep busy he started working on developing a manifold with inspiration from Jack Henry's two carburetor system. He was able to modify a factory manifold by adding high-rise runners. At that time he decided to get
Vic Edelbrock Sr.'s
opinion and learned Vic had some ideas on improving a Thickstun manifold. Phil made his decision and with a $250 loan set off on having 10 manifolds cast of the soon to be famous Weiand High Rise. It was the mid 50's when Phil got in to forced induction.
GMC 6-71
roots
blowers were becoming more popular on the strip so Phil created a manifold specially for the supercharger. By 1957
Weiand
was developing complete GMC 6-71 blower drives.
---
---
🔝
Phil Weiand Articles
Related Articles Found: None
---
🔝
Phil Weiand News
Related News Items Found: None
---
🔝
Phil Weiand Achievements / Milestones / Awards
Related Achievements / Milestones / Awards Found: 3
Achieved: 2006

Phil Weiand was inducted in 2006 into the Dry Lakes Racing Hall of Fame alongside 14 others this year. Phil drove his own car, a 32′ Ford Roadster, in the 1933 season at Muroc Dry Lake Racing Association events. His first run was in May where he posted a speed of 91.80 miles per hour. … Read more

Achieved: 1992

Phil Weiand was inducted into The International Drag Racing Hall of Fame along with 19 others.

Achieved: 1975

Phil Weiand of Weiand Power & Racing was inducted into the 1975 Specialty Equipment Market Association (SEMA) Hall of Fame. He was the only inductee for this year.
---
🔝
Head Units / Bare Units Related to Phil Weiand
Related Units Found: 2
Weiand classic 6-71 roots type blower uses a two lobe helical rotor.
Weiand classic 8-71 roots type blower with a two lobe helical rotor.
---
🔝
Kits / Systems Related to Phil Weiand
Related Kits/Systems Found: None
---
🔝
Deals Related to Phil Weiand
Related Deals Found: None
---