Supercharger:
TVS R1900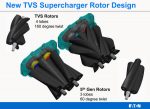 Eaton's TVS® R-Series has a couple new design features that makes it unique. One, is the 4 lobes which deviate from the standard 3 lobes. Two, is the design of the rotors. They have a 160 degree twist instead of the previous 60 degrees. The design increases the supply of air and keeps the air in the unit longer which simply put means more air at time of combustion. Eaton estimates this design improves efficiency by 12%. 1900 refers to the amount of volume of air (in cubic centimeters) the blower pumps per revolution. Note: The TVS R2650 rotors are 170 degrees, which differs from the other R series models.
Details:
Usage:
Street, Strip, Race, Light Race, Marine
Availability:
Available
(as of Mar 30, 2017)
Max Peak Speed (RPM):
24,000
Thermal Efficiency %:
70+
Min. Recommended Displacement Application:
3.6L
Max. Recommended Displacement Application:
6.6L
Model / Trim / Options & Price

TVS R1900.

Price:

N/A - Eaton does not sell individual units. See licensed company prices (EG: Magnuson, Harrop, Edelbrock, Roush, OEM's).
---
---
🔝
TVS R1900 Kits
Related Kits Found: None
---
🔝
TVS R1900 Articles
Related Articles Found: None
---
🔝
TVS R1900 News Items
Related News Items Found: None
---
🔝
TVS R1900 Achievements / Milestones / Awards
Related Achievements / Milestones / Awards Found: None
---
🔝
TVS R1900 Deals
Related Deals Found: None