Supercharger:
TVS R1320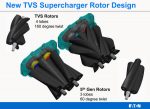 The TVS R1320 is one of Eaton's TVS® R-Series sixth generation design. The 1320 designation refers to the volume of air in cubic centimeters per revolution the blower pumps. Eaton's TVS R-Series design has 4 lobes instead of the traditional 3 and the rotors have a 160 degree twist which previously was only 60 degrees. This highly efficient roots design is used in several aftermarket kits and by several OEM manufacturers. Note: The TVS R2650 has a rotor twist of 170 degrees so not all R series have the same twist.
Details:
Usage:
Street, Strip, Race, Light Race, Marine
Availability:
Available
(as of Apr 15, 2017)
Thermal Efficiency %:
70+
Parasitic Loss (MAX):
20 hp (aprox)
Minimum Recommended Displacement:
2.2L
Maximum Recommended Displacement:
4.2L
Model / Trim / Options & Price

TVS R1320.

Price:

N/A - Eaton does not sell individual units, see licensed company prices (EG: Magnuson, Harrop, Edelbrock, Roush, OEM's).
---
---
🔝
TVS R1320 Kits
Related Kits Found: None
---
🔝
TVS R1320 Articles
Related Articles Found: None
---
🔝
TVS R1320 News Items
Related News Items Found: None
---
🔝
TVS R1320 Achievements / Milestones / Awards
Related Achievements / Milestones / Awards Found: None
---
🔝
TVS R1320 Deals
Related Deals Found: None