Supercharger:
CS-1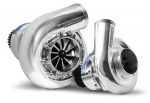 The ProCharger CS-1 is the mid sized supercharger for street, motorcycle and powersport applications. Mounting on a 150 to 325 hp base motor the max hp of this self contained unit is 550 hp.
Details:
Usage:
Street, Motorcycle, Powersport
Availability:
Available
(as of Apr 21, 2017)
Max Peak Speed (RPM):
80,000
Inlet Outside Diamater (OD):
3.5"
Discharge Outside Diameter (OD):
2.5%
Discharge Inside Diameter (ID):
2.12"
Base Motor HP Range:
150 - 325
---
---
🔝
CS-1 Kits
Related Kits Found: None
---
🔝
CS-1 Articles
Related Articles Found: None
---
🔝
CS-1 News Items
Related News Items Found: None
---
🔝
CS-1 Achievements / Milestones / Awards
Related Achievements / Milestones / Awards Found: None
---
🔝
CS-1 Deals
Related Deals Found: None