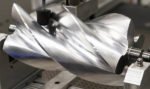 Eaton announced the TVS R2650 which is the latest addition to their TVS roots blower series. The announcement took place at the 2016 SEMA show.
Eaton's R2650 is not just a larger displacement TVS. It comes with a 4 lobe optimized rotor design that uses a 170 degree twist which reportedly shortens the rotor lead which helps maintain peak efficiency with higher speeds and pressure ratios. The optimized length over diameter ratio is said to improve sealing. To increase durability Eaton has added thicker timing gears and larger bearings. Additional efficiency comes from pressure relief ports in the bearing plate to lower required input power. The end result is the largest supercharger rotating group ever produced by Eaton with improved efficiency and air flow in the upper RPM range without adversely effecting low to mid range RPM operations.
Eaton says the R2650 was in development for over two years and has over 2,500 hours of testing using SAE standards. They believe that no other aftermarket supercharger can meet its durability.
R2650 Improvements and Changes Over the R2300 Include:
18% less input power needed.
Nearly 6% more efficient.
15% larger displacement.
25% increase in air flow at 18,000 RPM and 14 psi boost.
Source: Eaton